Activities
To go directly to the FISHING PAGE, click on the TROUT on the upper left hand corner of ANY page of this website.
---
OPENING DAY OF FISHING SEASON
ACTIVITIES 2012
Mineral Arts & Crafts Guild is having their 8th Annual Opening Day Show & Sale on Friday 27th and Saturday 28th of April, 2012. The show will be held at the Historic Mineral Presbyterian Church, 113 Lincoln Avenue,
across from the Post Office.

We have new artists and craftspeople this year and there will be
something for everyone, lots to choose from.
Many wonderful & unique items made by local artists.

Hours will be 9 AM to 4 PM.

As usual, there will be free coffee and cookies for guests.
For more information about the sale, use this link.

~~~~~~~~~~~~~~~~~~~~~~~~~~
2011 Activities
Lions Club Home Decorating Contest
The community is encouraged to participate. The top three decorated homes in Mineral (Mineral area from the "divide" to the Elbe bridge,
including Pleasant Valley) will be awarded cash prizes.
First Prize $100.00, Second Prize $75.00, Third Prize $50.00

If your home is tucked away somewhere out of the way, please contact Mineral Market with your location BEFORE Friday, December 9th and your information
will be passed on to the judges.
Judging will take place after 6:00 PM on Friday, December 9th.

Winners will be announced on December 10th at 6:20 PM at the
Olde Time Christmas at Mineral Lake Celebration
See details below.

~~~~~~~~~~~~~~~~~~~~~~~~~~
OLDE TIME CHRISTMAS AT MINERAL LAKE
Saturday, December 10, 2011 -- 5:30 PM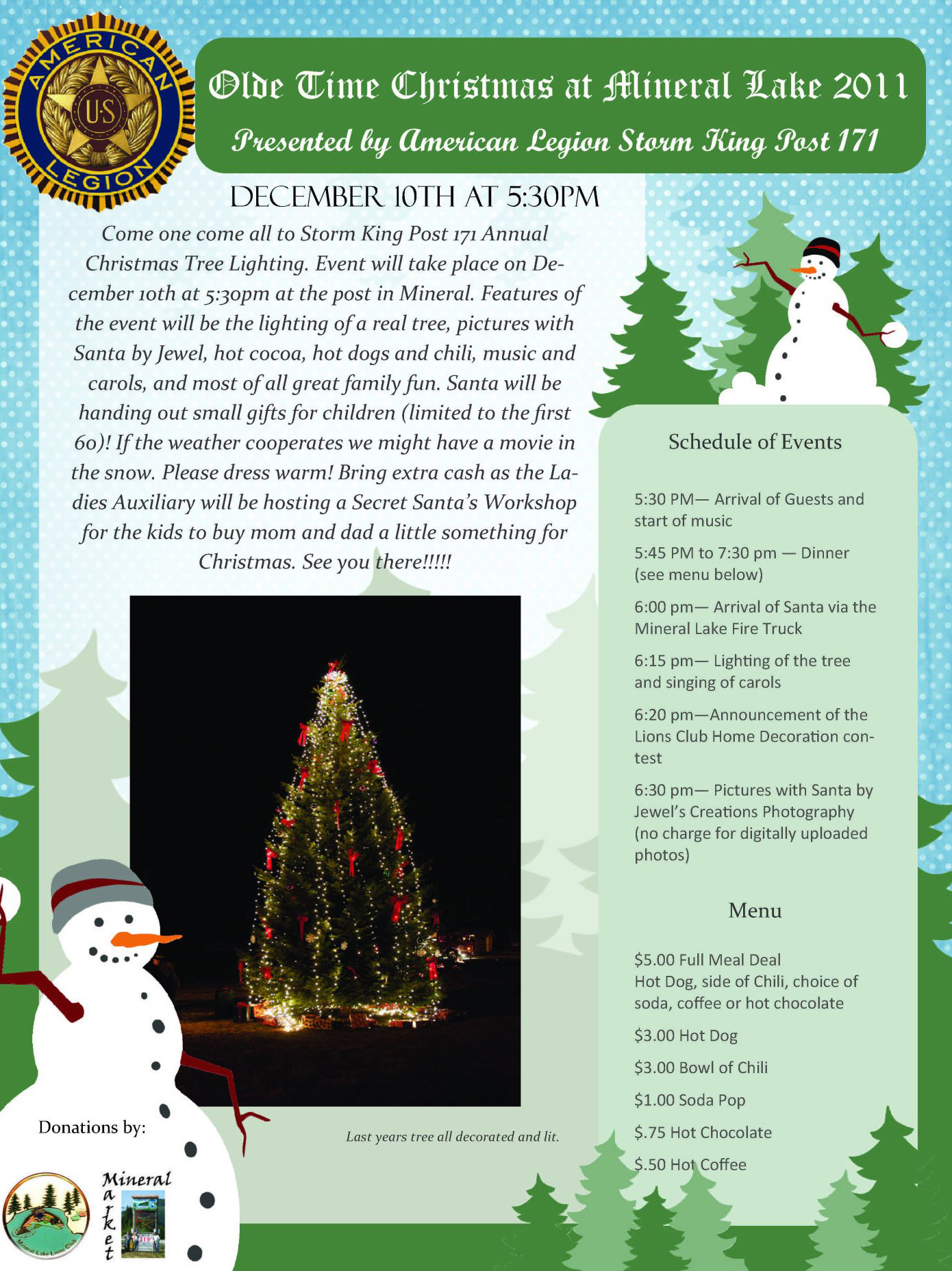 Hope to see you there!
---
PLEASE remember to drive safely while in Mineral. Children and their pets are out playing. Speed limit in town is 25 mph.
---
CAMPING:
Mineral Lake Resort
148 Mineral Hill Road
Mineral, WA 98355
360-492-5367
Mineral Lake Resort sits in the shadows of Mount Rainier. Remember to bring your camera; the view of the mountain from the lake is breathtaking. Mineral Lake Resort offers boat rentals, dock fishing, cabins, RV spaces, boat moorage and a Tackle, Bait & Snack Shop.

Lion's Den Campground
113 Front Street East
Mineral, WA 98355

Phone: Campground 360-492-9142
Phone: Orv Christiansen 360-492-5561
Phone: Dick Suter 360-492-5685
Boat launch, camping sites for travel trailers and tents. Docks for dock fishing and moorage.
Eastcreek Campground
Naugle Road (off Pleasant Valley Road)
Mineral, WA 98355
Email: eastcreekcampground@live.com
Phone: 360-492-3104 (weekdays between 9 AM and 5PM)

Eastcreek Escape is a private, reservation-only campground set on 20 pristine wooded acres between Mineral and Elbe. RVs spots include water and power. Tent spots includes nearby water and use of the restroom facilities. Shower facilities are available for a fee for nightly guests. For more information, visit their website www.eastcreekcampground.com
BOAT LAUNCHES:

Washington Dept of Fish & Wildlife & Lion's Den Campground
Boat Launch Map (Select the link to Boating Facilities Maps and type in Mineral Lake in the search box. Results will appear at the bottom of that page).
BOATING ON MINERAL LAKE:

Boating Safety in Washington
Boating Regulations on Mineral Lake
FISHING LICENSES, VEHICLE USE/PARKING PERMITS & AREA INFORMATION:

Mineral Market
104 Front Street East
Mineral, WA 98355
Phone: 360-492-3237

Fishing & Hunting Licenses, Vehicle Use Permits/Parking Permits, Fishing & Camping Supplies, Groceries, Beer & Wine, Gasoline available, Lottery, ATM.
SHOPPING:
Mineral Market
104 Front Street East
Mineral, WA 98355
Phone: 360-492-3237

ATM Machine, Lottery, Fishing Licenses, Vehicle Use Permits/Parking Permits, Fishing & Camping Supplies, Groceries & Gas.
Contact Mineral Market


---

Mineral Arts & Crafts Guild Show and Sale
Mineral Arts & Crafts Guild
P. O. Box 9
Mineral, WA 98355

Two shows per year. Opening weekend of fishing season and during Christmas in the Mountains at Mineral Presbyterian Church.

Phone: Ann Brown (360)492-5041 Dana Larson or Dianne Gonzales (360)492-5011 for information about becoming a member or about the artists or the shows.

Email Mineral Arts & Crafts Guild


SCENIC RAILROAD, STEAM TRAIN RIDES, RAILROAD MUSEUM:

Mt. Rainier Scenic Railroad
PO Box 921
Elbe, WA 98330
360-569-2588 or 888-STEAM-11


Steam train excursions through the foothills of Mt Rainier.


HIKING:

Gifford Pinchot National Forest, Forest Road 74 Nisqually Loop, Mineral, WA
Paved / Gravel - One Lane Road, rough & not maintained, but perfect for hiking and biking.

Click here for other areas of interest in Gifford Pinchot National Forest, including Mt. Saint Helens.

Mt. Rainier National Park, Nisqually Entrance, Ashford, WA
Follow this link for Mt. Rainier National Park Information.

If you are planning on climbing Mt. Rainier, consider Whittaker Mountaineering for your outfitter and guide.

Check out http://www.VisitRainier.com for more useful information about the greater Mount Rainier area.



HORSE RIDES, BACK COUNTRY GUIDE:

High Country Equine
Joe Hampton
429 Mineral Creek Road
Mineral, WA 98355

Phone: 360-492-0532 or 253-686-6886
Other services include Horseshoeing, Training & Sales, Appaloosa Stud Service,