Mineral Lake 2017 Fishing Season!
Fishing season on Mineral Lake opens on Saturday, April 22, 2017 and closes on September 30, 2017.
~~~~~~~~~~
FISH FOR TAGGED RAINBOW TROUT!
W.D.F.W. RAINBOW TROUT DERBY
April 22 through September 4, 2017
~~~~~~~~~
Your FISH PHOTOS FROM PAST YEARS ARE HERE!

2016 DERBY RESULTS BELOW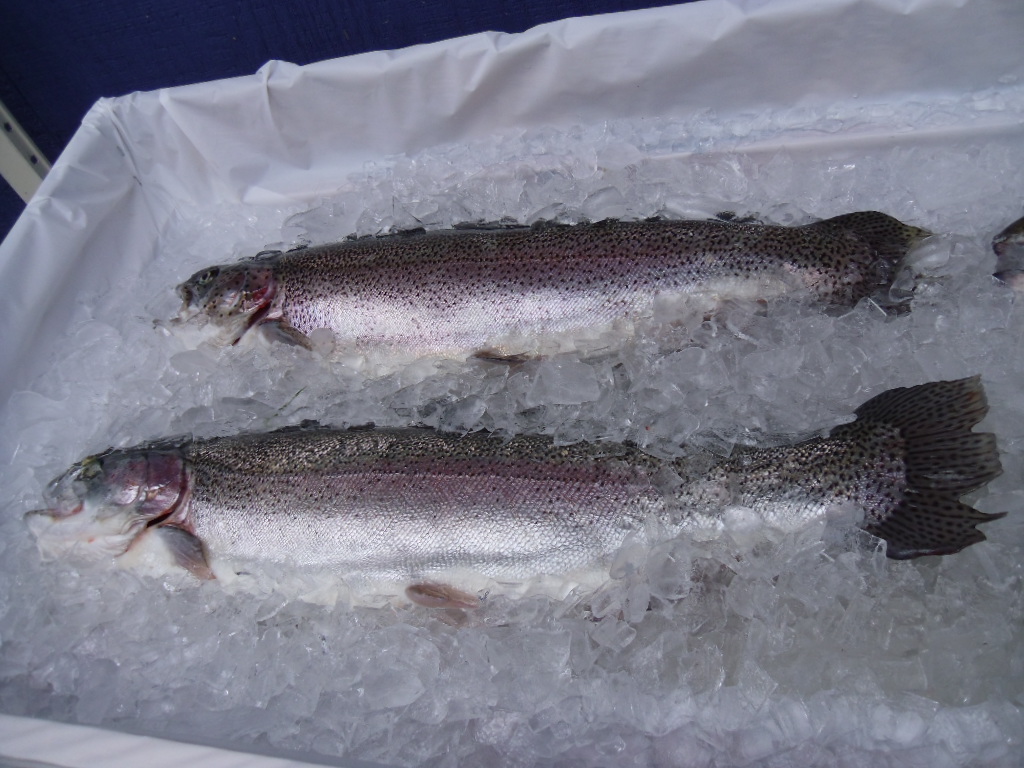 First Place 9 lb., 5 oz., caught by Richard Carignan (bottom)
Second Place 9 lb. caught by Loretta Wenzel (top)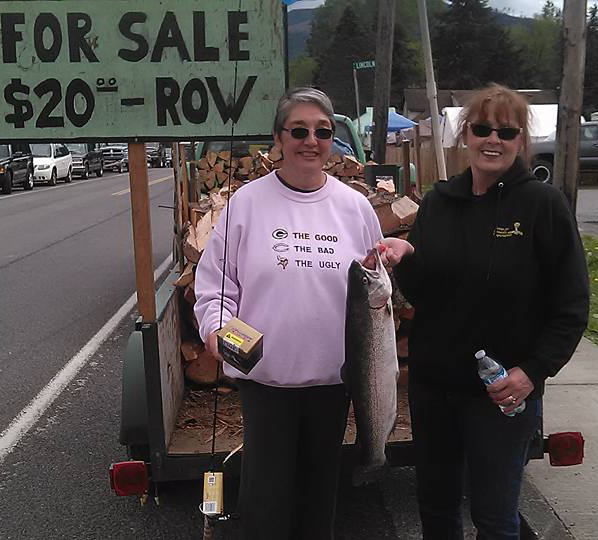 Loretta Wenzel, 2nd Place - 9 Lb. Rainbow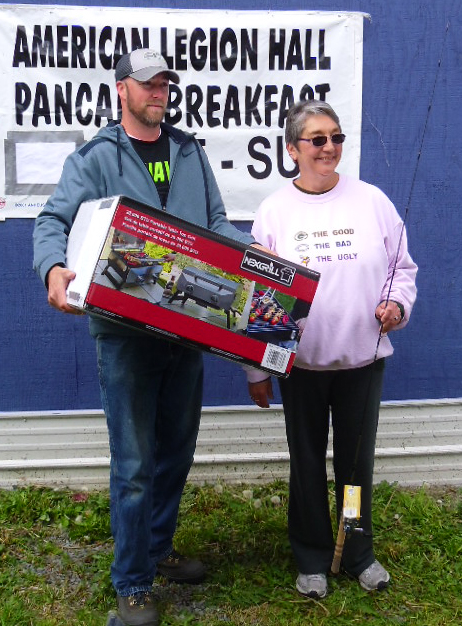 3rd Place, Kyle Wolever - 2nd Place Loretta Wenzel with prizes.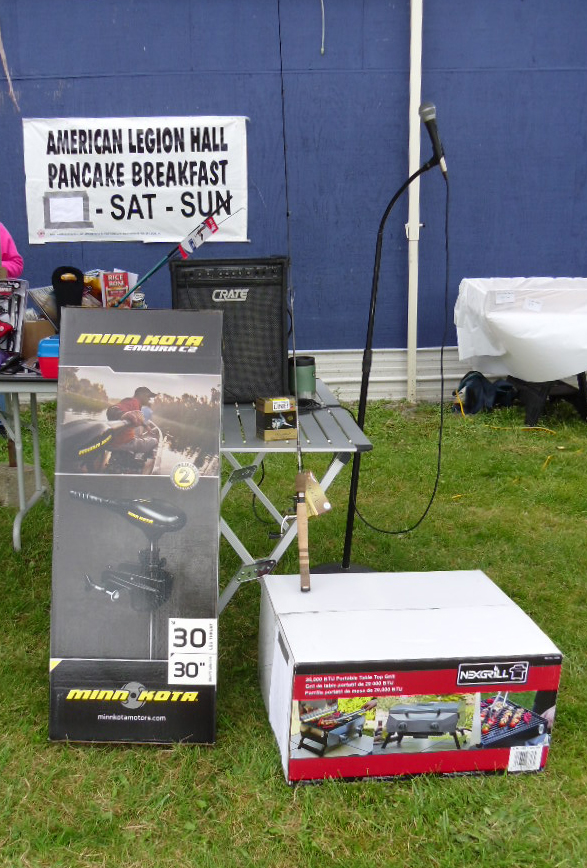 First, Second & Third Place Prizes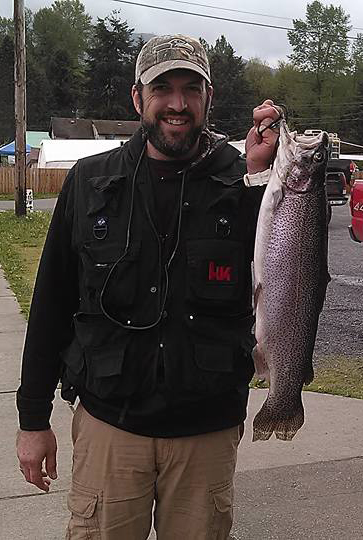 Unknown--Is this the First Place Derby Winner? Please let us know so we can give credit.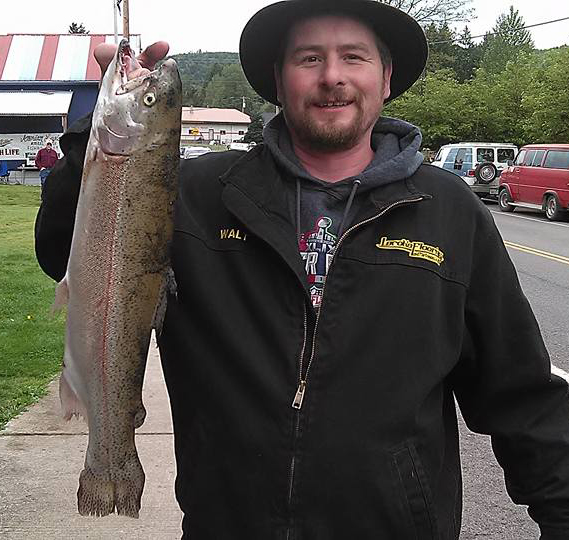 Walt Gandesbury with a nice Rainbow weighing in at 7 lb, 2 oz.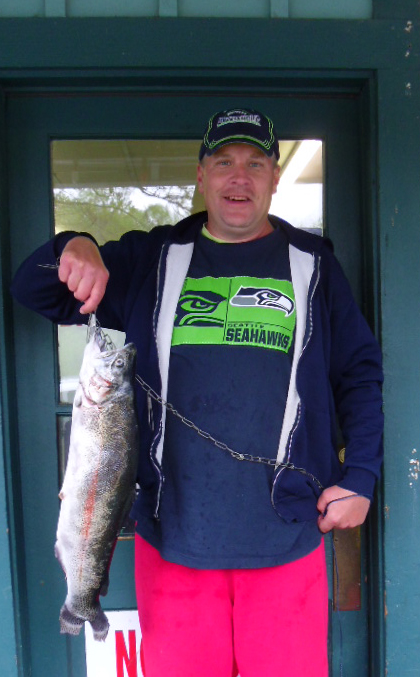 Scott VanAtta, Seattle. Opening Day Rainbow.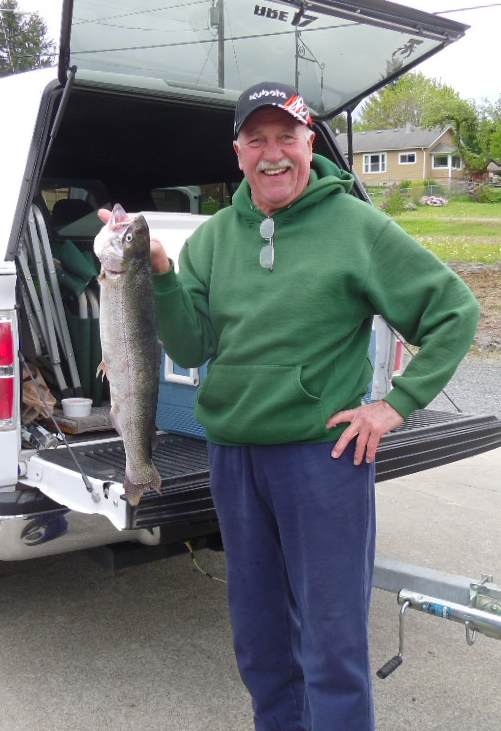 Wednesday, April 27. Larry Chapman, Packwood.
5 lb., 11 oz. Rainbow.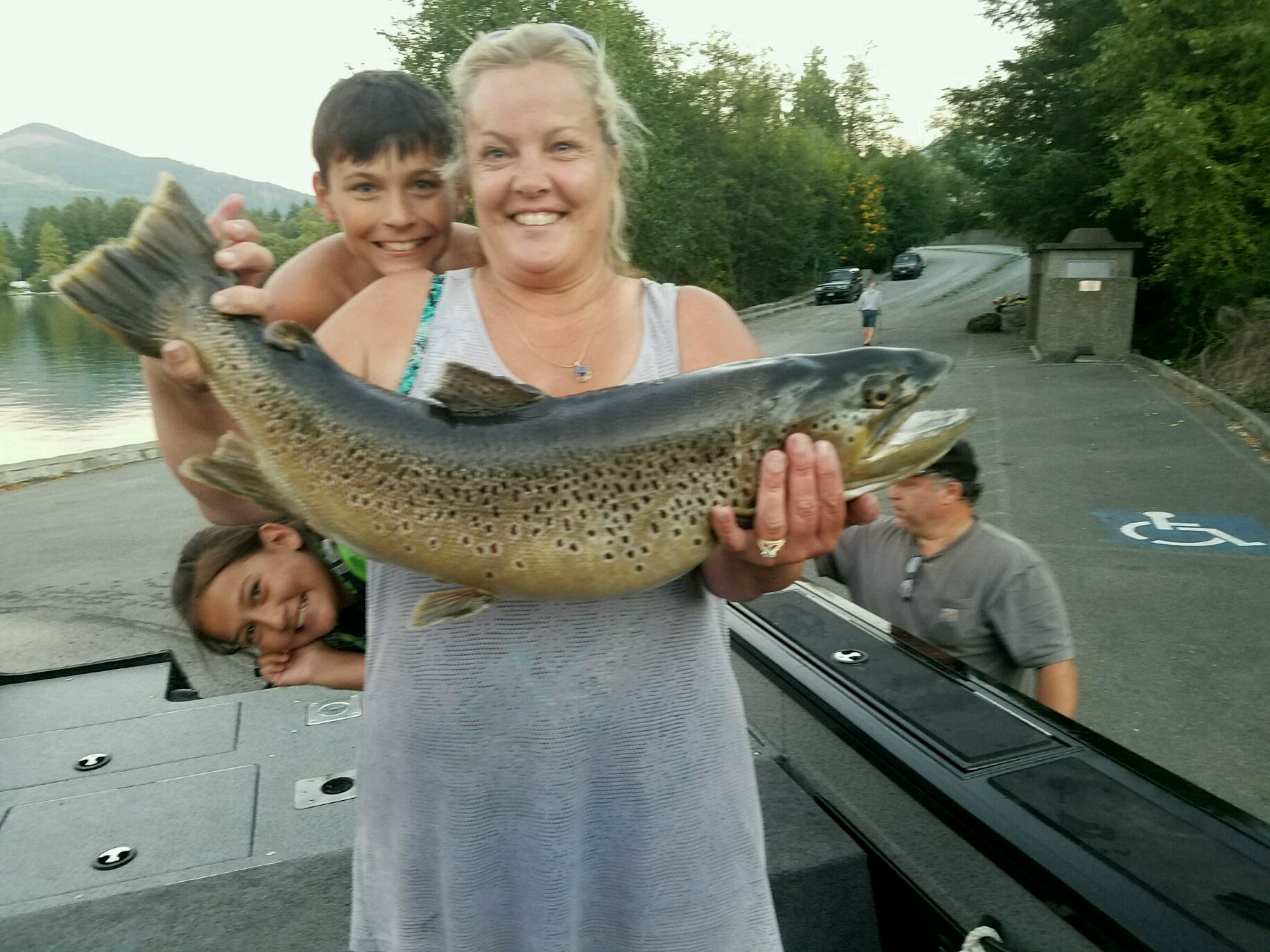 Thursday, August 18. Lisa Weed, caught this beautiful German Brown weighing 15 lbs., 32 inches long. Collective local knowledge of fishing on Mineral Lake confirms this as a record catch! Congratulations Lisa!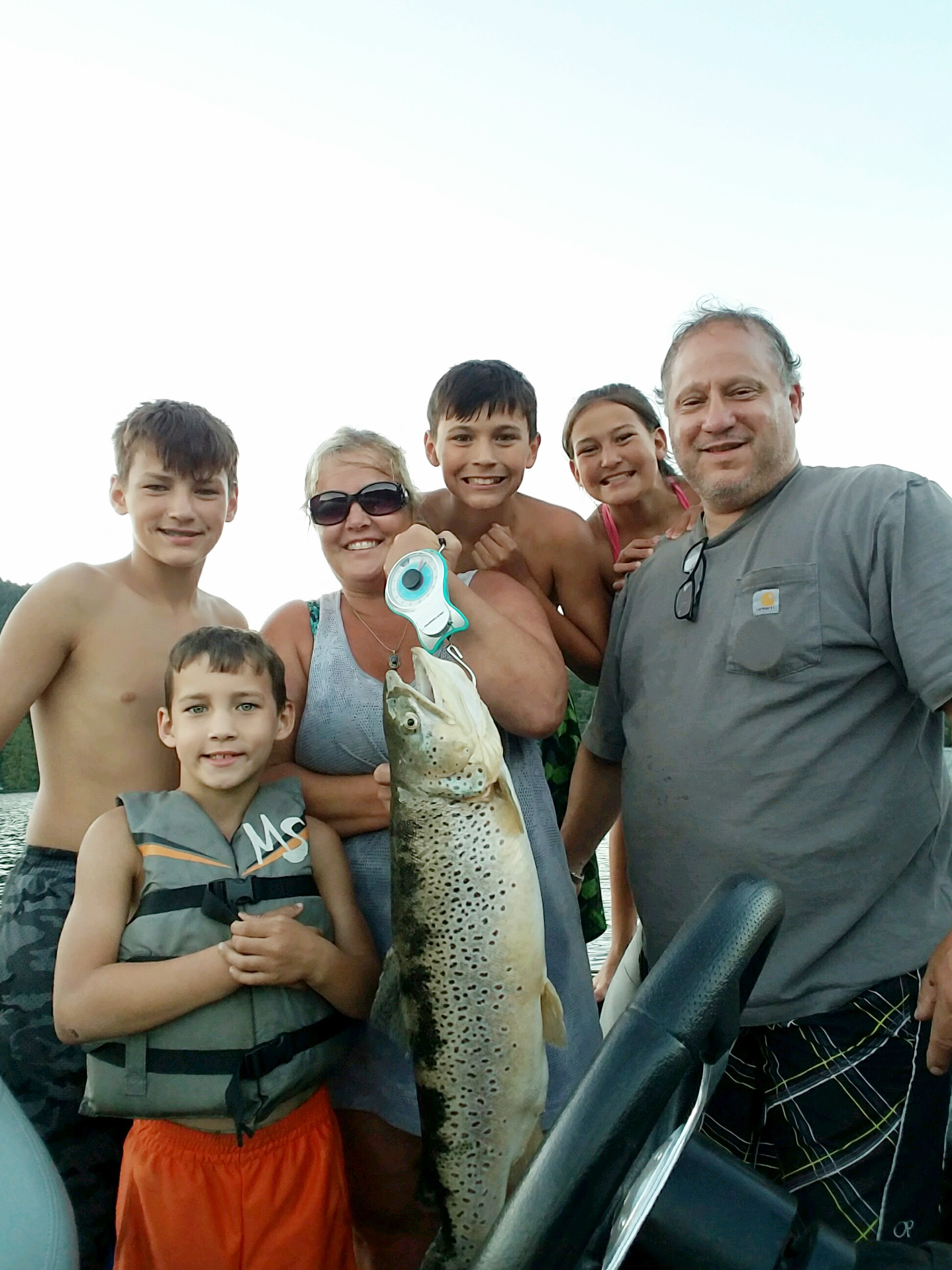 Lisa Weed & her 15 lb, 32 inch German Brown.

---
If you have photos of fish caught on Mineral Lake, or have corrections to any of the above photos, please contact us and we will include them in this photo gallery.
---
Be sure to send us your fish photos! OR, if you are still in town, be sure to stop by Mineral Market to have your photo taken for the website!

Use this link to email your digital photo to us and we will try to get it in the photo gallery. Please include the weight, length, when you caught it and information about the bait or lure you used and whether you were trolling or still fishing.

Or, stop by Mineral Market with your catch for us to photograph for you or bring your own photo for us to scan.
We are hoping to have a Picture Upload Form sometime soon!
Your FISH PHOTOS FROM PAST YEARS ARE HERE!


Boat Launches on Mineral Lake can be found here on the W.D.F.W. website. There is also a boat launch at the Lions Den Campground, where fees apply.



Fish Planted in Mineral Lake, Lewis County can be found here on the W.D.F.W. website. Scroll down to the Lewis County section of that page and look for Mineral Lake. The fish listed as being reared in net pens were reared in Mineral Lake at Mineral Lake Resort



Mineral Lake Resort
Mineral, WA 98355
360-492-5367
Mineral Lake Resort sits in the shadows of Mount Rainier. Remember to bring your camera; the view of the mountain from the lake is breathtaking. Mineral Lake Resort offers boat rentals, dock fishing, cabins, RV spaces, boat moorage, and a Tackle, Bait & Snack Shop.

Lion's Den Campground
113 Front Street East
Mineral, WA 98355
On site Phone: 360-492-3152

Phone: Dick Suter 360-492-5685