Mineral Lake 2009 Fishing Season!
Fishing season on Mineral Lake opens on Saturday, April 25, 2009 and closes on September 30, 2009.
Don't miss the American Legion Storm King Post #171 Fishing Derby!



First place derby winner Terry Hartman, left. Second
place winner, Jeremy Harstad & son Kaydon, right.

DERBY RESULTS:


1st Place – Terry Hartman, Puyallup
10 lb. 13 oz., 29" length, 16 1/2" girth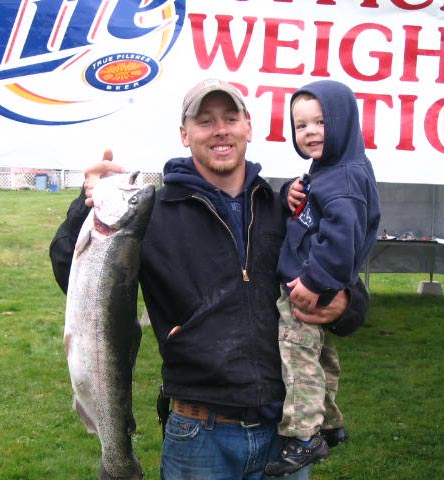 2nd Place – Jeremy Harstad, Mineral
10 lb. 7 oz., 29 1/4" length, 16 1/4" girth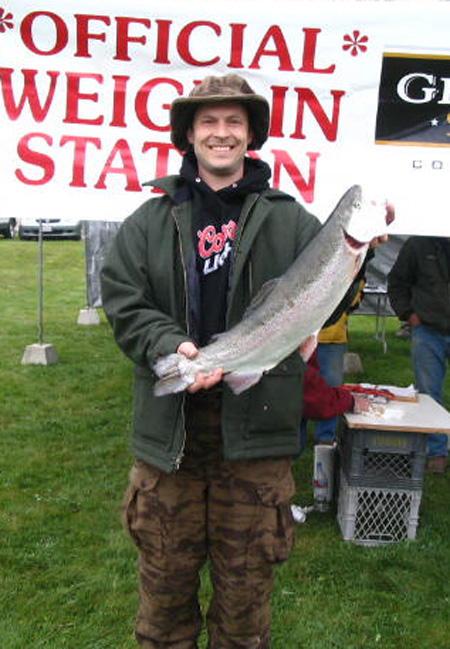 3rd Place – Jason Rutledge
9 lb. 6 oz., 29" length, 15 1/2" girth
Other derby entries caught on
Opening Day, April 25th, 2009
Another nice fish caught on opening day after the Derby

The above was a very nice "first fish ever" caught by Morton High School foreign exchange student Tim Luijsterburg (center) from The Netherlands. Pictured left, MHS foreign exchange student Joseph Svoboda and at the far right, Chase Page, grandson of Jack Page of Mineral Lake Taxidermy.






Above from left, Brett, Eatonville, next is James Riesing with a nice German Brown caught on May 10th. Center photo is James Riesing, again, with a Rainbow 28 in., 7 lb., 2 oz. Bruce with a 21 inch German Brown weighing 4 lb., 3 oz. Both were caught on May 23rd. Far right photo is Cole with his 28 1/4 inch, 7 lb., 5 oz. Rainbow, the biggest caught in the campground competition, so far.
---
Be sure to send us your fish photos! Picture Upload Form Coming Soon !
Your FISH PHOTOS FROM PAST YEARS ARE HERE!


You can also email your digital photo to us and we will try to get it in the photo gallery. Please include the weight, length, when you caught it and information about the bait or lure you used and whether you were trolling or still fishing.
Or, stop by Mineral Market with your catch for us to photograph for you or bring your own photo for us to scan.



Fish Planted in Mineral Lake, Lewis County can be found here on the W.D.F.W. website. Scroll down to the Lewis County section of that page and look for Mineral Lake. The fish listed as being reared in net pens were reared in Mineral Lake at Mineral Lake Resort



Mineral Lake Resort
Mineral, WA 98355
360-492-5367
Mineral Lake Resort sits in the shadows of Mount Rainier. Remember to bring your camera; the view of
the mountain from the lake is breathtaking. Mineral Lake Resort offers boat rentals, dock fishing,
cabins, RV spaces, boat moorage, and a Tackle, Bait & Snack Shop.

Lion's Den Campground
113 Front Street East
Mineral, WA 98355

Phone: Orv Christiansen 360-492-5561
Phone: Dick Suter 360-492-5685